Wow, I'm still in awe at being picked by Runaway Juno as the winner for Travel Photo Roulette's Round 37; specially considering the rest of the entries, check them out!  The photo I submitted shows my best Digital Nomad Moment during a recent road trip across Canada last summer. It was a journey full of adventures that I shared with my dear friend, Alain from Riding The Dream, who is also a very talented photographer and showed me a couple of tricks with the camera. Make sure to check out his blog for some really amazing photography.

Now, I wish I was in some exotic location at the moment; running, hiking, swimming, climbing… But as luck would have it, I've been trapped in the urban jungle for longer than I'd like to due to a sprained knee. So I'll have to take it easy for the time being and wait a couple more weeks to go play outside again. Luckily though, I get to pick a theme for Travel Photo Roulette's Round 38! And I've chosen to go with:
Sunshine!
Spring is just around the corner, the days are getting longer already; but we still need some warmth in the northern hemisphere. So I ask you to submit your best photos reflecting the light and warmth of our Sun, that gives us life and makes us cheery and happy. It can be a sunset or a sunrise, or simply a photo with some interesting sunlight. Below are a couple of examples, hope you enjoy this round!
For those new to the process, Travel Photo Roulette is a rotating event open to bloggers and photographers and people generally interested in good work. See the rules below.
Round 38 – Entries
"The wild plant life and the strange colors of the sunsets deep in the Florida Everglades had me battling mosquitoes for the best views!"
02. Rebecca from Travels at 88mph
"Sunset taken in Auckland, New Zealand during a work Regatta bonding activity. Nothing has been edited! The sky is just so clean and beautiful in New Zealand."
03. Jeremy from Living The Dream
"We went on a Caribbean cruise in 2003 and our very first port city started out with rain. When the sun peeked through I took a photo of it so it would last longer as the old saying goes, and it did!"
04. Tawny from Captain & Clark
"The Disappearing Sun. We snapped this at sunset in Stone town, Zanzibar."
05. Jade from Our Oyster
"This is my entry from New Zealand. I was lucky to make some amazing friends through the website couchsurfing, and one day we went on a day trip to Murawai beach. We had a picnic and drank wine as the sun set.."
06. Adam from Travels of Adam
"I snapped this pic of my friend at one of my most favorite Cape Cod beaches a few years ago. To me, it's exactly what summer (and sunshine!) is all about—–sunglasses."
07. Raymond from Man On The Lam
"This reminded me of a postcard from the 1970s when I saw it — it's Bunaken Island in Indonesia from January of this year. So relaxing…"
08. Tash from Jouljet
"Sunset over Sydney Harbour, taken from a cruise ship last year, pulling out for our trip".
09. Heather from Travellers Playground
"My entry was taken from an Amtrak train between the Wilmington, DE and Philadelphia, PA train stations around 7AM when the sun was just stretching it's leg's for the first time that day."
10. Ross from Been Bogged Before
"Taken at the sand dunes in Death Valley National Park just after sunset. When I need some warmth in the winter and early spring I like to go to Death Valley."
11. Juno from Runaway Juno
"At the temple in Luang Prabang, Laos. It was one shiny afternoon. This is the very image of Luang Prabang for me. A beautiful city!"
12. Stephen from Bohemian Traveler
"Hong Kong at dawn from the 31st floor"
13. Heather from Ginger Nomads
"This was the very first sunrise of 2012, taken from a ferry on the Ayeyarwady River, going from Mandalay to Bagan. It was a lovely but long (15 hours) way to travel, filled with locals and the slight chaos that comes with South East Asia."
14. Kathryn from Travel with Kat
"Here's my entry for 'Sunshine' – a shot I took in Kerala, India, just after sunrise"
15. Caro from Passport and a Toothbrush
"Taken first night of camping at Driftwood Bay in Ontario. Love to see the sun illuminate the water splash! How much longer till summer camping?"
16. Jay from Roving Jay
"My submission was taken in Bodrum Bay, Turkey, just as the sun was going down, with Bodrum Castle on the horizon…."
17. Cole from Four Jandals
"From my home town and favourite surf location at Mount Maunganui beach. love watching the sunset when you are paddling our for a wave or just after you come back in!"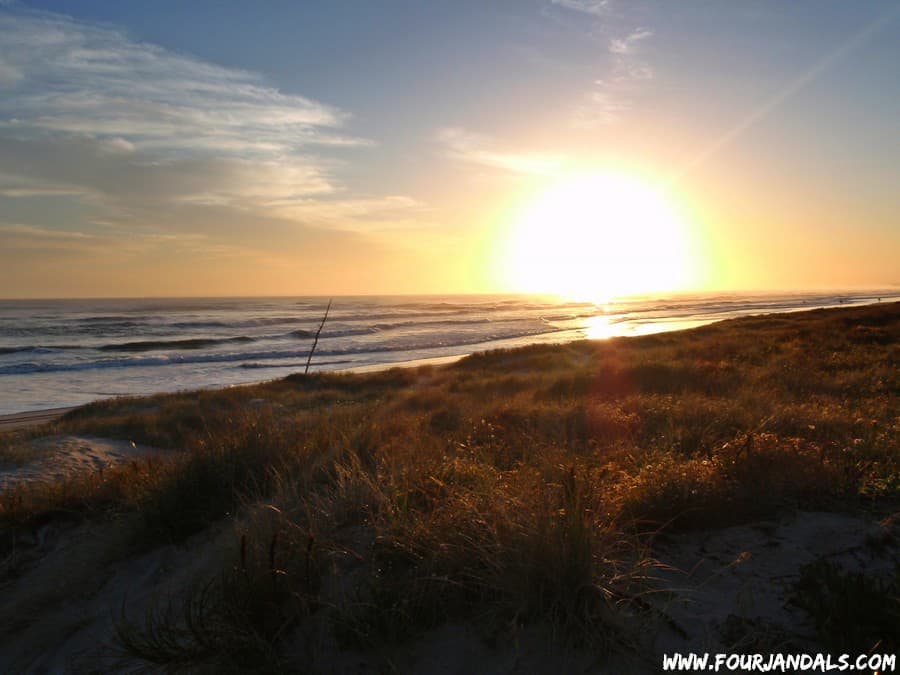 18. Anwar from Beyond my Front Door
"It was taken in the Australian summer in St. Kilda in Melbourne. I was walking around and wandered over to check out the Kite-boarders right before sunset."
19. Linda from Journey Jottings
"This is Standley Chasm in central Australia – Its only as the sun reaches its zenith that the whole chasm fills with sunshine :)"
20. Natasha from Wandering Kiwi
"The second pic in this blog is taken at 11.30 at night in St Petersburg, Russia. In midsummer the sun never really sets in this part of the world"
21. Nick from Adventure Crow
"Sun setting over the High Atlas Mountain Range on an expedition to summit Bougmez"
22. Rob from Piran Café
"This was very early morning, Gulf of Fonseca, near La Union, El Salvador, June 1992. There was a gentle rain falling."